'RED-FACED' GOVT QUIETLY CHANGES 'DIAL 999' SMACKING ADVICE ONLINE BUT DAMAGE ALREADY DONE
Government officials quietly tweaked advice on an official web page today that urged members of the public to "call 999 and report a crime in progress" if they see a parent smacking a child.
The move came just hours after campaigners against the smack ban law, which comes into force next month, revealed the shock advice in official guidance.
A webpage on the gov.scot site published last week had urged members of the public to "call 999 to report a crime in progress". An amended version of the guide, updated today, now says punters should only call 999 if they think a "child or young person is in immediate danger".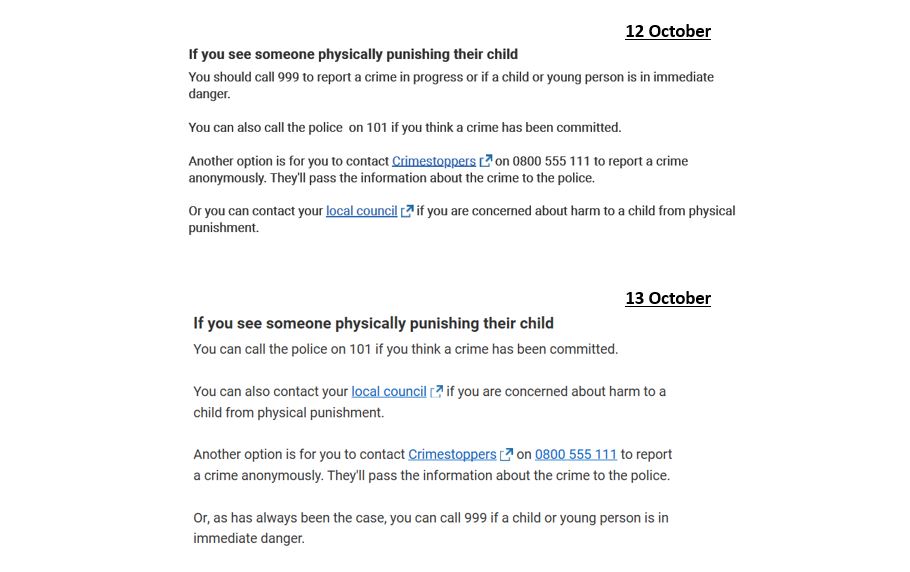 Be Reasonable comment
A spokesman for the Be Reasonable Scotland campaign, which highlighted the original advice, said: "Red-faced government officials have quietly tweaked advice on the gov.scot site after a wide media backlash. Perhaps they realised that people in Scotland are not on-board with the idea that ordinary, loving parents should be reported to the police via a 999 call for tapping a child on the bum. Unfortunately, it's too little too late. A raft of guidance has already been sent to professionals across Scotland with exactly the same phrasing.
"The government's mask has slipped here. For two years they've been at pains to stress that the smacking ban 'isn't about criminalisation'. Maree Todd is on the record telling MSPs that the government's 'intention is not to criminalise parents'. Yet, the guidance said very clearly that criminalising parents is precisely the outcome we should expect. No wonder the government changed it."
'Too little too late'
Several publications were sent to local authorities and other stakeholders last week including a leaflet aimed at parents and two aimed at children and young people.
The leaflet for parents states that members of the public "should call 999 to report a crime in progress" if they witness a parent or carer smacking a child.
And the leaflets for children say physical punishment is "not allowed" and encourage kids to report their parents to the police.
'Creepy' leaflets for children
The first leaflet, titled 'Physical punishment & you' states that after 7 November 2020, "physical punishment will be against the law in Scotland. This means it won't be allowed."
It adds: "Physical punishment has lots of meanings. It can mean smacking, skelping, slapping and pinching. But there isn't a set list.
"Physical punishment isn't good for you. That's why this change is happening. It's important that you grow up safe, happy and healthy."
"Want to talk to someone? You can talk to an adult you trust. This might be a teacher or a nurse. Or you can call ChildLine on 0800 1111."
A second leaflet, titled 'Physical punishment & you: questions and answers', states: "Physical punishment has lots of meanings. But from 7 November, none of it will be allowed.
"If you're worried, it can be good to talk. You can talk to an adult that you trust. That person might be a teacher. Or a nurse or police officer. Or you can call Childline for free on 0800 1111."
Be Reasonable spokeswoman and lecturer in sociology Dr Ashley Frawley commented:
"Ministers have wasted no time in encouraging children to report mums and dads who smack. Why does the government have such contempt for parents and carers in Scotland? There seems to be a complete lack of trust.
"Children will have no idea that telling on a parent for smacking – or worse making something up – will result in stressful social work and police intervention in the family home. They may even be questioned by police separately and removed from their family whilst a prosecution is ongoing.
"There is no evidence that mild physical punishment harms children, but bringing this stress into family life will do a great deal of harm indeed."
Dr Frawley added:
"The approach Ministers are taking here has all the hallmarks of the hated Named Person scheme. This 'big brother' scheme also pitted children against their parents and viewed all parents in Scotland as potential abusers.
"In 2016, when the UK Supreme Court struck down the Named Person policy, judges observed that a 'totalitarian regime' tries to 'get at the children' to 'indoctrinate them in their rulers' view of the world'. This devastating observation rings true again here."
ENDS
Notes to editors:
The Be Reasonable campaign is a grassroots coalition of parents, academics and politicians. Find out more on the Be Reasonable Scotland website.
For further information contact:
Dr Ashley Frawley
Be Reasonable
Mob: 07531 938 334
Issued on behalf of Be Reasonable Scotland by:
Tom Hamilton Communications
Mob: 07836 603 977
t.hamilton2006@yahoo.co.uk